Description
We Use the CBD Capsules Ingredients
100% Organic MCT Oil derived from Fractioned Coconut Oil
Plant-derived Capsules – 100% Vegan & Gluten Free
How to Use Our CBD Capsules
Our CBD Capsules are in soft gel form so they are very easy to take. Simply ingest 1-2 capsules with water, with or without food, once or twice daily. The full effects of our CBD will be felt 60-90 minutes after ingesting in this manner.
Actual dosages will vary depending on the individual's body weight and desired effect. It is generally recommended to take 1mg – 6mg of CBD for every 10 pounds of body weight. So for a 150 pound individual, the recommended dosage would be anywhere from 15mg to 90 mg of CBD. If this is your first time taking an organic full spectrum CBD prouct, we recommend to start at a small dosage and work your way up.
The following chart breaks down doses per pill for our CBD capsules:
CBD Dosage
| | | | |
| --- | --- | --- | --- |
| Bottle Size | CBD per Bottle | Dosage | CBD/Capsule |
| 30 Capsules | 300mg | 1 Capsule | 10mg |
| 30 Capsules | 750mg | 1 Capsule | 25mg |
| 30 Capsules | 1500mg | 1 Capsule | 50mg |
| 30 Capsules | 3000mg | 1mL (1 droplet) | 100mg |
Our CBD Capsules
Core Extraction's CBD Pills are made from 100% Organic Full Spectrum CBD. The cannabis was grown on organic farms in upstate New York that use solely sustainable farming practices. It is Non-GMO, and completely free of herbicides or pesticides during the growing process. Our Capsules are plant-derived and do not contains any collagen or animal by-products. That means our product is 100% Vegan and Gluten-Free.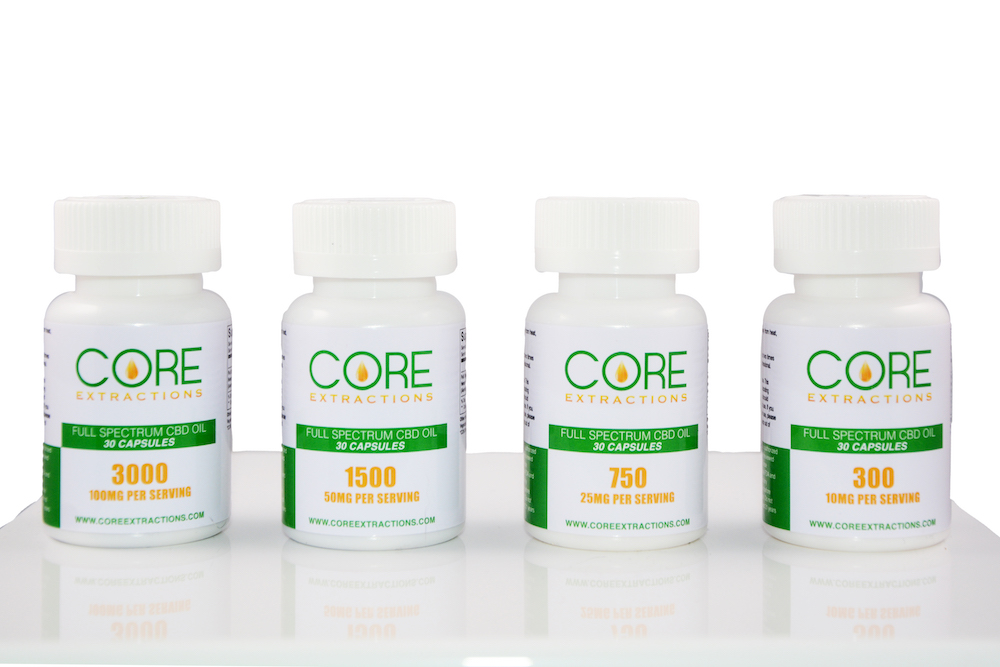 The result? Some of the best CBD capsules available on the market, providing the broadest health benefits to your endocannabinoid system.
100% Organic
100% Non-GMO
100% Vegan
100% Gluten Free
No Harsh Chemicals or Pesticides
Eco-Friendly
100% Verified by Independent Lab Tests
Our CBD capsules are packaged in a solid white bottle to prevent sunlight from penetrating and altering the CBD. Sunlight can activate the cannabinoids inside the body, causing the CBD pills to become less potent after being exposed. Always store our CBD capsules in a cool dark place, away from direct sunlight.
We have close partnerships built with all of our growers to ensure that the best quality cannabis is sourced during our production. We check on all of our farmers monthly to ensure that we are using only the best CBD genetic strains available. We are involved in the growing process from seed to sale, which is what is truly unique about Core Extractions. We work closely with our farmers, and we even hand select our crop prior to harvest.
After harvest, the crops are sent off to our state of the art production facility in upstate New York. There it is manufactured using the latest technology for extraction and production. Our CBD pills are minimally processed, so they contain a full spectrum of cannabinoids which provide the greatest overall health benefits for the user.
With the cannabis industry's recent expansion, product quality and consistency has been one of the biggest issues facing consumers. Too often CBD products on the market are mislabelled and rarely are they produced with the consumer's health as the #1 focus. Especially with THC-free products, you need to know what your buying, and it's important the label is accurate.
That's what sets Core Extractions apart. Product quality and our customers' health are at the top of our company's priorities. We're committed to supplying the best quality CBD on the market at reasonable prices. Give us a try and see why everybody is coming to core. We provide a 100% money back guarantee on product quality and all of our products are 3rd party tested and approved.
What are CBD Capsules
CBD Capsules are 100% Organic CBD Oil in pill form! Our CBD pills are hand-filled and bottled in our New York production facility. They are filled with Full Spectrum CBD oil. Specific doses vary by bottle size, from 10mg per capsule up to 100mg per pill.
CBD Capsules are mostly commonly sold in 30 pill and 60 pill bottles. 1 dosage varies according to the amount of CBD in each capsule, but is generally 1-2 capsules per serving, instructed to be taken orally 1-2 times daily. Read your bottle for more details.
As far as ingesting CBD in capsule form, the onset is usually about 45-90 minutes with a peak occurring between 120-180 minutes. The effects of eating CBD oil will usually last longer than smoking or vaping CBD as well as taking CBD tinctures orally.