Description
CBD Tincture Ingredients
100% Organic MCT Oil derived from Fractioned Coconut Oil
Full Spectrum Cannabis Extract (Cannabidiol)
How to Use CBD Tincture for Pets
One of the most common methods of giving CBD to pets is by letting the tincture get absorbed into a cookie or treat that the dog is accustomed to. In some cases, you may be able to apply the tincture directly into the dogs mouth, but if this presents a problem, add the tincture to a cookie or the dogs normal meal.
Dosage of CBD for your dog or cat will vary depending on the size of your pet. The general rule for a pet is 2-5mg for every 10 pounds. So if you have a 30 pound dog, the recommended dosage is anywhere from 4mg – 15mg. It's always recommended to start at the lowest dosage and work your way up from there.
In our tinctures and in most tinctures, the dosage is considered to be 1 dropper which is assumed to be equivalent to 1mL. The bottle is 30mL, so each dosage should be 1/30 of the total amount of CBD in that bottle.
Our CBD for pets is sold in 150mg and 300mg sizes. So each dropper contains 5mg or 10mg of CBD depending on the size you buy. The following table will help you determine how many droppers you need for your pet depending on it's weight:
CBD Dosage
| | | | |
| --- | --- | --- | --- |
| Bottle Size | CBD Amount | Dosage | CBD/Dosage |
| 30mL | 150mg | 1mL (1 droplet) | 5mg |
| 30mL | 300mg | 1mL (1 droplet) | 10mg |
| | | | |
| --- | --- | --- | --- |
| Pet Size (lbs.) | Recommended Dosage | Droppers (150mg) | Droppers (300mg) |
| 5-10 lbs | 1mg – 5mg | .2 – 1 Droplets | .1 – .5 Droplets |
| 10-20 lbs. | 2mg – 10mg | .4 – 2 Droplets | .2 – 1 Droplet |
| 20-30 lbs. | 4mg – 15mg | .8 – 3 Droplets | .4 – 1.5 Droplets |
| 30-50 lbs. | 6mg – 25mg | 1.2 – 5 Droplets | .6 – 2.5 Droplets |
| 50-75 lbs | 10mg – 35mg | 2 – 7 Droplets | 1 – 3.5 Droplets |
| 75-100 lbs | 15mg – 50mg | 3 – 10 Droplets | 1.5 – 5 Droplets |
| 100-150 lbs | 20mg – 75mg | 4 – 15 Droplets | 2 – 7.5 Droplets |
Our CBD Tincture
Core Extraction's CBD Tincture is made from 100% Organic Full Spectrum CBD. It was grown by small family-owned farms on U.S. Soil using sustainable farming practices and 100% safe to use on pets. It is Non-GMO, and no herbicides or pesticides are used in the growing process.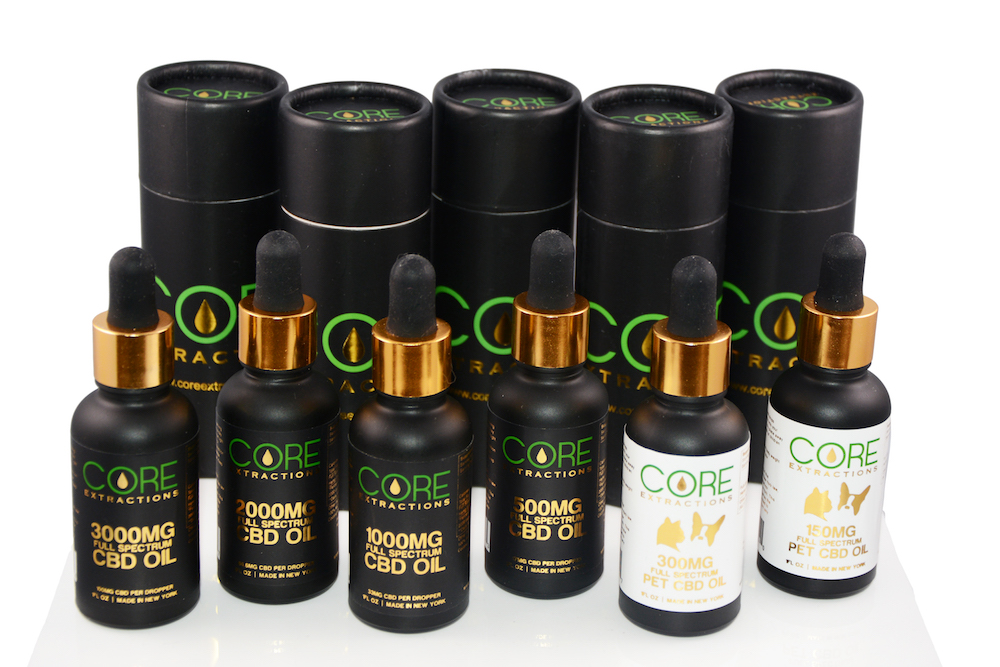 This is why we are one of the best CBD brands on the market!
100% Organic
100% Non-GMO
100% Vegan
100% Gluten Free
No Harsh Chemicals or Pesticides
Eco-Friendly
100% Independent Lab Tests
Our Tincture is packaged in a solid black bottle to prevent sunlight from affecting the CBD. Sunlight can activate cannabinoids, causing the CBD Tincture to become less potent. Always store in a cool dark place, away from direct sunlight.
We maintain close relationships with all of our farmers to ensure the best quality cannabis is used in our product process. We properly vet all of our growers to ensure that we are sourcing only the best U.S. CBD genetic strains. We are involved in the growing process from seed to sale, which is what is truly unique about Core Extractions CBD products. We work closely with the growers, and we even hand select our crop prior to harvest.
After harvest, this CBD Tincture was created in our state of the art production facilities in upstate New York. It was manufactured using the latest and best technology on the market for extraction and production. As a result, we produce the best full spectrum CBD tincture with less than .3% THC that you can buy!
With the cannabis industry's recent expansion, product quality and consistency has been one of the biggest issues facing consumers. Too often CBD products on the market are mislabelled and rarely are they produced with the consumer's health as the #1 focus.
That's where we are different. Product quality and our customers' health are at the top of our company's priorities. We're committed to supplying the best quality CBD on the market at reasonable prices. Give us a try and see why everybody is coming to core.
What Benefits Can CBD Provide for Pets?
CBD can provide a wide range of benefits for our cats and dogs, much like it can for humans. Any dog that suffers from arthritis, seizures, or anxiety is a great candidate for CBD for pets. It's been shown to be just as effective in reducing symptoms associated with pain and stress in cats and dogs just like humans.
If you've never given CBD to your pet before, it's recommended to start it at a low dose. The lowest recommended dose is 2mg per 10 pounds, so if your dog weighs 50 pounds, it is recommended to start it at 10mg.