Description
We Use the Best Zero THC CBD Tincture Ingredients
Zero THC Organic MCT Oil derived from Fractioned Coconut Oil
Full Spectrum Cannabis Extract (Cannabidiol) – serving varies (1 droplet)
How to Use Zero THC CBD Tincture
Tincture is one of the most versatile CBD products because of the variety of ways you can ingest it. It is most commonly used by placing 1mL of CBD tincture (1 droplet) under the tongue and letting it sit. The blood vessels under the tongue rapidly absorb the CBD, allowing the user to feel the affects more quickly than eating or ingesting a heavier oil.
Another reason CBD Tincture is so popular is that it makes it very easy to ingest with food. Because our Zero THC CBD Tincture is in liquid form and the dosage is so small, it can easily be added to a plate of food or a drink with little to no added flavor. It's easily ingested with your morning coffee or tea, and can even be added to water.
CBD Dosage
| | | | |
| --- | --- | --- | --- |
| Bottle Size | CBD Amount | Dosage | CBD/Dosage |
| 30mL | 500mg | 1mL (1 droplet) | 16.67mg |
| 30mL | 1000mg | 1mL (1 droplet) | 33.33mg |
| 30mL | 2000mg | 1mL (1 droplet) | 66.67mg |
| 30mL | 3000mg | 1mL (1 droplet) | 100mg |
Our Zero THC CBD Tincture
Core Extraction's Zero THC CBD Tincture is made from 100% Organic Non-GMO hemp. The cannabis was grown on small family-owned farms in upstate New York that use solely sustainable farming practices. It is grown completely free of herbicides, pesticides and harsh chemicals, and we even go visit the farms pre harvest to hand select the best crop for our extractions process.
The result?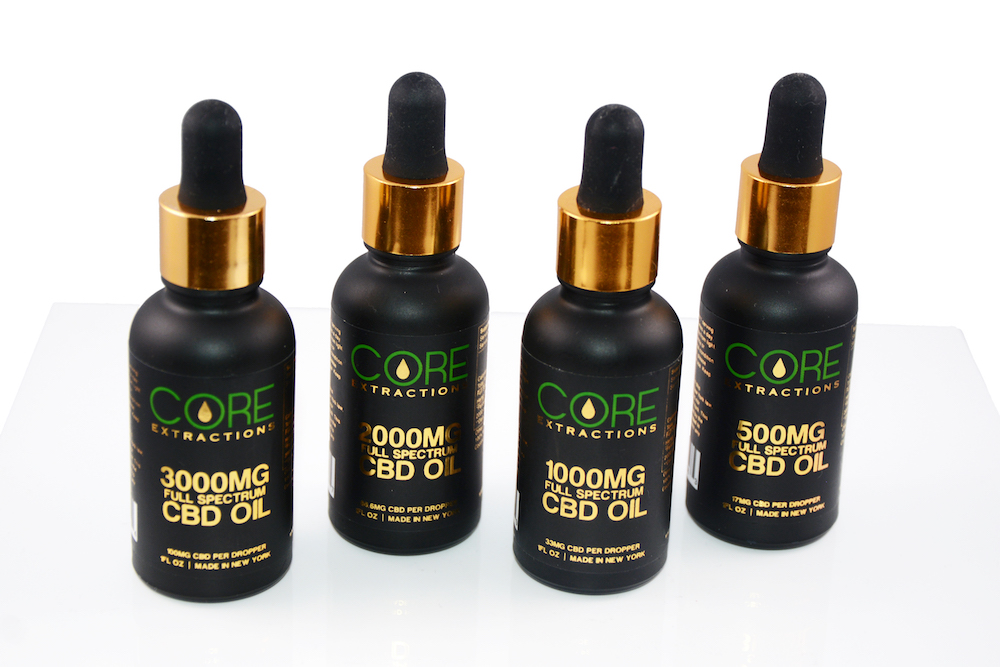 Some of the best Zero THC CBD available on the market, providing the broadest health benefits for your endocannabinoid system.
100% Organic
100% Non-GMO
100% Vegan
100% Gluten Free
No Harsh Chemicals or Pesticides
Eco-Friendly
Our Tincture is packaged in a solid black bottle to block sunlight from the tincture. Sunlight activates the CBD, which would cause the product to lose potency. We've also encased our tincture in a sturdy travel-safe tube to prevent damage. This ensures that when our product gets to you, it's undamaged and contains the full range of benefits that come with CBD. Be sure store your tincture in a cool dark place, away from direct sunlight.
We maintain close relationships with all of our farmers to ensure the best quality cannabis is used in our product process. We properly vet all of our growers to ensure that we are sourcing only the best U.S. CBD genetic strains. We are involved in the growing process from seed to sale, which is what is truly unique about Core Extractions CBD products. We work closely with the growers, and we even hand select our crop prior to harvest.
After harvest, this CBD Tincture was created in our state of the art production facilities in upstate New York. It was manufactured using the latest and best technology available for manufacturers. Utilizing a precise and targeted supercritical CO2 extraction method, we are able to isolate and remove the THC from the extract while still keeping in tact some of the other cannabinoids that were present in the plant besides CBD.
The results in using this broad spectrum extraction method we are able to eliminate the THC from the oil but still leave in tact as many of the active cannabinoids in the end product as possible, resulting in a more healthy zero THC product when compared to just CBD isolates on their own. As a result, we produce the best broad spectrum 0 THC CBD tincture you can buy!
With the cannabis industry's recent expansion, product quality and consistency has been one of the biggest issues facing consumers. Too often CBD products on the market are mislabelled and rarely are they produced with the consumer's health as the #1 focus.
That's where we are different. Product quality and our customers' health are at the top of our company's priorities. We're committed to supplying the best quality CBD on the market at reasonable prices. Give us a try and see why everybody is coming to core.
What is Zero THC CBD Tincture
THC-free CBD Tincture is similar to our full spectrum CBD tincture, except it contains zero THC. They are made using the same process, but for our 0 THC Tincture, we isolate and remove all trace levels THC from the extract itself. As a result, the end product still contains CBD and other cannabinoids that have shown to produce valuable health benefits, while eliminating the psychoactive affects of cannabis and ensuring our products are safe to use if your subject to workplace drug testing.
Prior to prohibition CBD was sold as tincture, an ethanol-based CBD extract that was essentially grain alcohol infused with cannabis. Most CBD tinctures on the market today are not alcohol based, but rather oil based. While MCT Oil derived from coconut is the most commonly used oil, some are using extra virgin olive oil or grapeseed oil.
How to Use Our Organic 0 THC CBD Tincture
Zero THC CBD Tincture is mostly commonly sold in 30mL and 60mL bottles with caps that have attached droppers. 1 dosage is usually one dropper, equivalent to 1mL of CBD tincture. Hence a 30mL bottle is generally 30 doses, and a 60mL bottle is 60 doses. The amount of CBD dosage depends on the total amount of CBD in the bottle.
If let to absorb under the tongue, the onset is usually about 15-30 minutes with a peak occurring around 90 minutes. If swallowed or mixed with food, the effect will be similar to that of other edibles, meaning the onset will usually be much slower (45-90 minutes) and generally last longer. The effects will typically last longer than smoking or vaping CBD, but not as long as oil based CBD products and edibles.